Labor and employment lawyer running for Attorney General

By Eddie Trizzino | Times West Virginian | Feb 18, 2020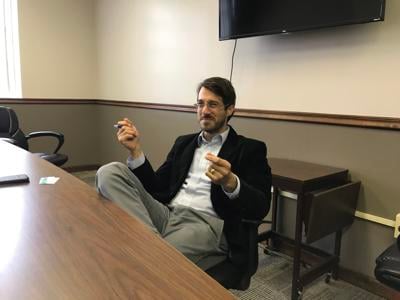 FAIRMONT – As an attorney, Sam Brown Petsonk speaks with working people of West Virginia almost every day.
He said he frequently takes on cases concerning wages, benefits and health care, and takes stands on cases for working people.
"I deal with working people every day," Petsonk said. "I represent working people trying to access benefits, health care, trying to protect fair wages and retirement security for people."
Having this experience under his belt, the 35-year-old Fayette County resident has filed to run for the office of West Virginia Attorney General, after hearing requests from people including some in the health care field. Running as a Democrat, Petsonk is running to fight to keep the rights at risk for going away within West Virginia.
"First and foremost it was some of my clients but really the people that came to me about this race were the medical providers," Petsonk said. "Our treatment and addiction counseling programs, they live and die on those federal health care dollars and our state is attacking those services right now. That's I think what is driving a lot of people to be concerned with this race."
Petsonk was born in Morgantown and also worked for U.S. Sen. Robert Byrd (D-W.Va.) in his last few years in office. Petsonk said he learned to navigate the political sphere from Byrd and would be able to use that experience to his advantage if elected.
Petsonk said he thinks the current Attorney General, Patrick Morrisey, has failed to protect the interests of the people of West Virginia, so he wants to run to try to fight himself.
"Health care, public education, fighting the addiction crisis and protecting our working people; it's the job of the Attorney General to protect those interests," Petsonk said. "I have worked hard for a while now for the last couple of decades to understand our administrative state, understand how we could make government work more transparently and effectively for us."
According to Petsonk, he has taken on cases involving access to health care in recent years and has tried to bring affordable lawyer services to working coal miners both union and non-union. In particular, the case involving pre-existing conditions the state is currently undergoing is an issue he would hope to tackle.
"There is no protecting people with pre-existing conditions if you eliminate these federal dollars that come into West Virginia," Petsonk said. "Unless somebody knows of a few hundred million dollars just sitting on the corner in Charleston, there is no prospect, I think it is completely disingenuous to tell the public of West Virginia that we can eliminate the federal health care dollars and somehow yet provide comparable care."
Petsonk also touched on the overdose crisis currently ravaging West Virginia and said he would like to see that issue tackled with long-term recovery programs aimed at
"I have tried to study and develop a legal mechanism to respond to that reality," Petsonk said. "The Attorney General should be working with our state agencies through the Human Rights Commission and through the workforce offices and rehabilitation services to help get people out of jail and into supervised long-term recovery programs so we can reduce these useless costs of incarcerating people who really need long-term treatment and support."
Having filed for pre-candidacy in June of last year, Petsonk has amassed a team of supporters for his campaign, and he said by the primary election, he is hoping to be on the way to raising $500,000.
"I have great support, volunteer support, a committee that is working on my behalf in the case," Petsonk said. "I have received some labor union's endorsement support and I also am raising money online, in person, every way shape or form. I have the belief that all of that is required in order to run a successful campaign and to win the trust of the people."
Friends and family have been in support of Petsonk in the campaign, and one friend and colleague believes he would be a good candidate to fill the Attorney General seat.
"Sam has said to me at different times that he was looking at opportunities," said Kent Spellman, a community and organizational development consultant from Clarksburg. "He deeply cares about working men and women of West Virginia, and he has been a defender of workers in West Virginia as an attorney for years."
Spellman also applauded Petsonk's transparency and character, which he believes are important qualities for any elected official including the Attorney General to have.
"I think he's exactly what we need as Attorney General," Spellman said. "I always believed that when we're looking at elected officials, the first thing we have to look at is character. Sam is a person of very high character, high integrity, great transparency and a value system that I find to be refreshing."
Running against an incumbent candidate in Morrisey, Petsonk said he is up for the challenge because he believes the issues he feels most passionate about are some the West Virginia people care about.
"The Attorney General enforces our Human Rights Act, our consumer protection law and our Anti-trust Law and really our employment laws," Petsonk said. "It's the job of the Attorney General to protect workers, consumers, that is people that pay mortgages that are trying to pay through their medical debt, their student loan debt, it's the Attorney General's job to be sure that those folks are paying a fair rate and are getting a good value for what they purchase."